Welcome to UMLAX
Umlax AB produces and sells farmed Artic char, Rainbow trout and Trout. Extremely clean waters and fish of strong stock allow us to offer exclusive and unique products with a warm reception far beyond the Swedish borders. And it all began quite simply with an idea over a cup of coffee… We are in control of the complete production chain, from eggs to fully grown fish. This gives us the unique opportunity to be in charge of all steps of the production, and at the same time we can deliver fish according to demand. The company is one of the leading operators on the market with a permit to produce up to 3 000 tons of fish yearly.
For more information, watch our video
Take a look at our presentation movie that shows more about our business and what we do. Just click on the movie to the left!
Vi söker personal!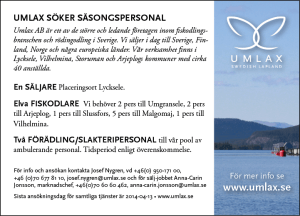 Umlax AB är ett av de större och ledande företagen inom fiskodlingsbranschen och rödingodling i Sverige. Vi säljer i dag till Sverige, Finland, Norge och några europeiska länder. Vår verksamhet finns i Lycksele, Vilhelmina, Storuman och Arjeplogs kommuner med cirka [...]
Read more »
Nyheter
Den 8 februari 2013 gick Årets Kock tävlingen i Stockholm. Tävlingsuppgift nummer 2 är att skapa en modern restaurangrätt och huvudråvaran är fjällrödingar à 500-800 gram. Fjällrrödingen kommer från UMLAX i Svenska Lappland. Vår kund www.leroy.se som är sponsor till tävlingen levererar fjällrödingen till kockarna. [...]
Read more »
Nyheter
Daniel Räms vann årets kock 2013! Umlax fjällröding var en av huvudråvarorna. Se klippet från finalen här!
Read more »